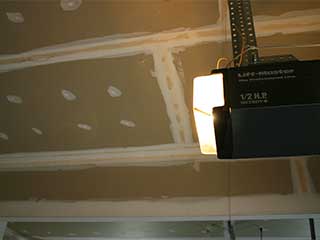 The opener is perhaps the most important part of your overhead door system. It controls and operates the door itself, and has to work perfectly with dozens of other mechanical components. As with any complex piece of machinery, there are many different problems that can develop over time, and this can make it difficult to identify and fix the issues when they manifest as strange noises and jittery performance. Our technicians are familiar with all the major manufacturers, and can quickly find and fix everything from faulty circuit boards to broken motor-gears.
Installing New Units
Aside from repairing existing units, our technicians provide professional installation for new opener models as well. We work with the very best brands in the business, such as Chamberlain, LiftMaster and Genie, to bring you top-quality openers that are completely reliable and won't let you down. Thanks to the depth of experience our technicians have, we can ensure your new model will be properly connected and aligned with all the door, so it will work smoothly from day one.
Choosing Your New Model
There are dozens of different opener manufacturers that are leading the industry today, which can make it hard to know which model is going to be best for you. Our team will guide you through the buying process, help you to decide whether you need the easy maintenance of a screw drive model, a strong and affordable chain drive unit, or the smooth, quiet operation of a belt drive opener. We'll provide you with all the information you need to make an informed decision, so you can rest assured that the new unit we'll supply you with will be a perfect match for your door.
Regular Opener Maintenance
The high-quality openers we work with are designed to last for many years. However, they require regular maintenance in order to reach their maximum service life, just like any other complex electro-mechanical device. Our technicians provide everything you need to keep your overhead door system working perfectly, from lubricating the drive to carefully testing the safety sensors and realigning them as necessary.


Reach Out To Us Today
No matter whether you need emergency opener repair or you're in the market for a new model with Wi-Fi compatibility, our team is ready to help. Contact Garage Door Repair Brushy Creek today to find out what we can do for you.
Need more? We also provide:
Garage Door Safety Inspections
Garage Door Remote Clickers
Extension Spring Adjustment