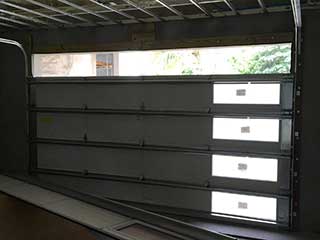 It's only natural for any system as complex as your garage door to experience some issues over time. The stress the many working parts are under makes some type of repairs to be inevitable. Of course, dealing with an overhead door can be extremely dangerous, which is why you need to let our technicians take care of things when you encounter a problem.
Opener Related Issues
The motor that powers the system is not beyond faults. The circuit board could malfunction or fry due to unexpected power outages. The safety sensors can get damaged and need to be repaired or replaced, and even parts of the drive system, like the rail, chain (if you have one) or belt (if you have one) can break for a myriad range of reasons. Our team can handle all these issues, and many more. If your opener is running but the door won't move, or if there seems to be no power getting to the motor, let our experts check and fix the problem.
Tracks And Cables
Unfortunately, the hardware parts of the system can also experience all sorts of problems. Frayed cables will snap and leave your door inoperable, and bent tracks will prevent the rollers from moving, and may even cause the door to get off track. No matter what the issue is, you can count on our team for help. We'll make sure the cables are properly wound on their drum, and that the tracks are free from debris and are allowing the door to move without any hassle.
The Importance Of The Springs
As the parts of the system that actually support and counterbalance the weight of the panels, these components deserve extra attention, and when they do break, they must only be handled by professionals. A broken spring will prevent you from using the door, and can lead to dangerous accidents if it is mishandled. Our repair specialists can safely replace these components (both torsion and extension springs) and make sure that their tension is properly adjusted and not too loose or too tight.
The Time To Call Is Now
Our team at Garage Door Repair Brushy Creek can fix every type of issue you may experience, so don't hesitate to reach out to us if anything from the panels to the hinges is giving you some trouble. We offer emergency repair services in order to help local customers when they suddenly find themselves dealing with an unexpected problem. Contact us as soon as you find something wrong with your door.
Count on us for:
Part Replacement & Lubrication
LiftMaster Garage Door Opener
Galvanized Torsion Spring Replacement
Emergency Garage Door Services